ACM UMAP 2019, the 27th Conference on User Modeling, Adaptation and Personalization (PC Co-chair of the track: Towards Adaptive Systems that Care: Privacy, Fairness, and Transparency )
Symposium on Ethics and Scientific Integrity in Medical Research: "Artificial Intelligence: Friend or Enemy?" (October 2018)
The 7th International MCETECH Conference on e-Technologies (2017)
25th International World Wide Web Conference (2016)
International Conference on Information Systems Security and Privacy (2015)
Workshop on Computer Privacy in Electronic Commerce (2014)
Centre de recherche interuniversitaire sur les humanités numériques - French version
French Podcast (Les cahiers de l'imaginaire: Interview with Sylvie Gendreau)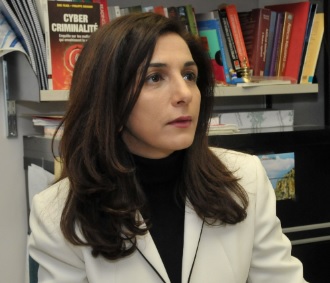 Esma Aïmeur

Full Professor
ACM and IEEE Member
Former Member of the Data Protection Advisory Committee of University of Montreal
Phone : (514) 343-6794
Fax : (514) 343-5834

Send me a message
Ph.D. in Computer Sciences, Université de Pierre et Marie Curie (Paris 6) France.
RESEARCH DOMAINS
My area of study is Artifial Intelligence, and more precisely knowledge acquisition and machine learning.
I have been working with my team on Computer Privacy for more than 17 years. I am interested in privacy-enhancing technologies in different settings, such as social networks, electronic commerce and e-learning. I also work on privacy-preserving data mining and the protection of personal data (identity theft, information disclosure, profiling, re-identification and privacy policies).
I am also interested in Electronic Commerce (profiling and computer privacy) and Knowledge Management, and more specifically in intelligent agents for E-commerce (recommender systems).
I have been involved in the area of intelligent tutoring systems (Learning Strategies and Task Modelling, taking into account the learner's pedagogical context and his/her emotions).
EXPERTISE
Artificial intelligence, Security, Privacy, Trust, Protection of Personal Data, Online deception, Privacy Policies, Profile management, Artificial intelligence ethics, Cyberethics, Social media, e-Learning, Economics of Privacy, Electronic commerce, e-Business, Intelligent agents, Recommender Systems, Web services, Information technology, Human Computer Interaction, Information Systems, Computers in human behavior.
PANELS AND TUTORIALS
ADMINISTRATIVE RESPONSIBILITIES
MEMBER OF:
AAAI
IEEE COMPUTER SOCIETY
AI-ED SOCIETY
ACM