Map The Tang dynasty (A.D. 618-907), with its capital at Chang'an (now Xi'an), is regarded by historians as a high point in Chinese civilization. They extended the boundaries of China through Siberia in the North, Korea in the east, and were in what is now Vietnam in the South. They even extended a corridor of control along the Silk Road well into modern-day Afghanistan. By 700 CE, Chang'an was the world's largest and richest city. Merchants, clerics, and envoys from India, Persia, Syria, Korea, and Japan thronged the streets of Chang'an, the capital. Stimulated by foreign contacts, the empire saw a flowering of creativity in many fields.

This was a time of momentous social change; the official examination system enabled educated men without family connections to serve as government officials. This new social elite gradually replaced the old aristocracy, and the recruitment of gentlemen from the south contributed to the cultural amalgamation that had already begun in the sixth century. The Tang also instituted land reform where they gave life plots to the peasant families. With improved planting techniques food production increased rapidly.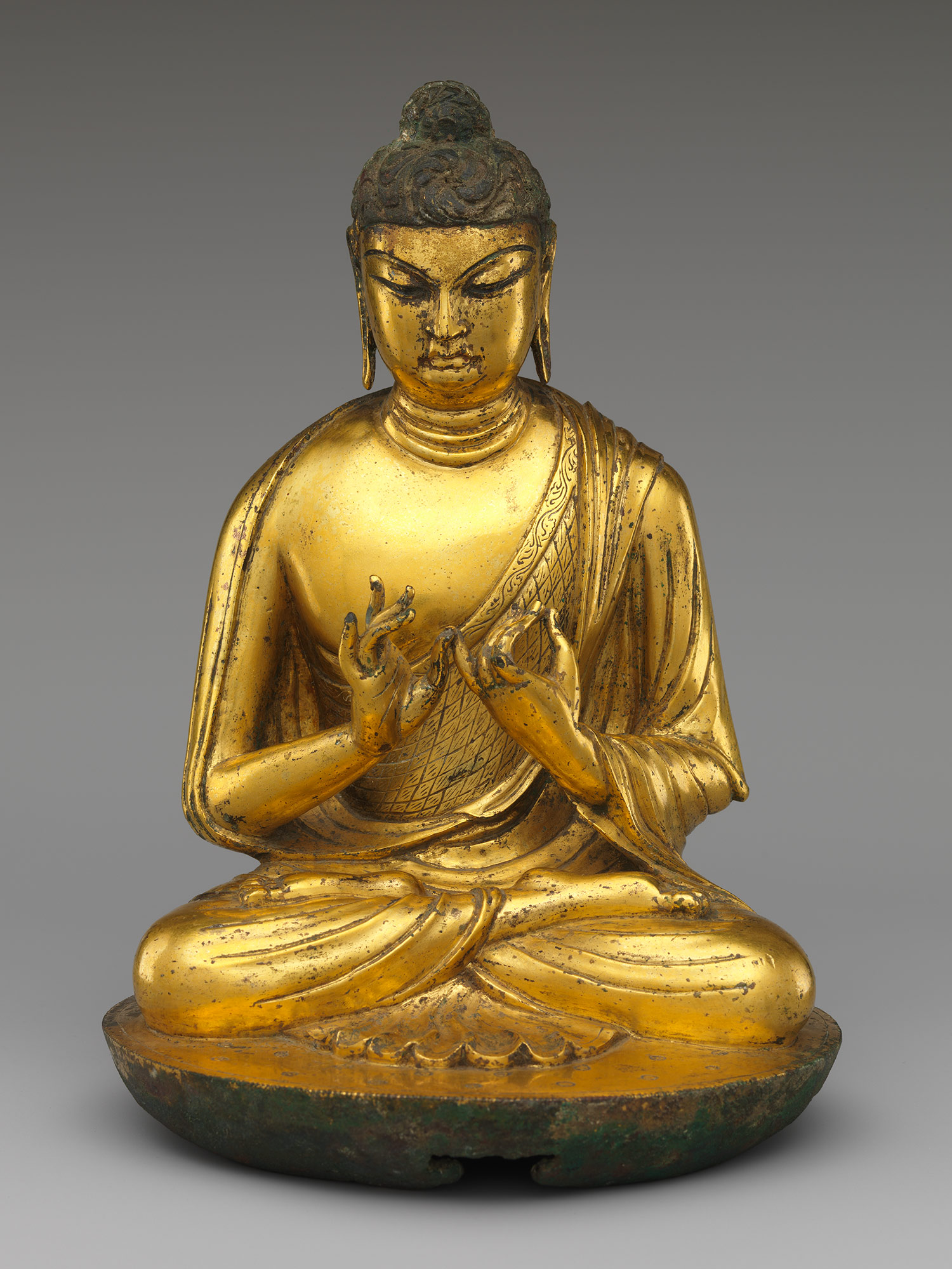 Buddhism, originating in India around the time of Confucius, flourished during the Tang period, becoming thoroughly sinicized and a permanent part of Chinese traditional culture.
Block printing was invented, making the written word available to vastly greater audiences. The Tang period was the golden age of literature and art. Printing also allowed producition of playing cards and even paper money.
Eventually misrule, court intrigues, economic exploitation, and popular rebellions weakened the empire, making it possible for northern invaders to terminate the dynasty in 907. The next half-century saw the fragmentation of China into five northern dynasties and ten southern kingdoms. ========= The reunification of China under the subsequent Sui and Tang dynasties initiates a period of prosperity, trade relations, and far-reaching influence. Chang'an, the capital, is one of the largest and richest cities in the world. Art and literature flourish, reflecting influences from the different cultures with which China maintains diplomatic and trade relations. In addition to painting and calligraphy, Tang is noted for its Buddhist sculpture, metalwork, and ceramics, both brightly glazed tomb figures and white-bodied vessels. After the fall of the dynasty in 907, China is once again divided into north and south, ruled by competing dynasties and kingdoms. =========== Marked by strong and benevolent rule, successful diplomatic relationships, economic expansion, and a cultural efflorescence of cosmopolitan style, Tang China emerged as one of the greatest empires in the medieval world. Merchants, clerics, and envoys from India, Persia, Arabia, Syria, Korea, and Japan thronged the streets of Chang'an, the capital, and foreign tongues were a common part of daily life. In the beginning decades of the Tang, especially under the leadership of Emperor Taizong (r. 627–50), China subdued its nomadic neighbors from the north and northwest, securing peace and safety on overland trade routes reaching as far as Syria and Rome. The seventh century was a time of momentous social change; the official examination system enabled educated men without family connections to serve as government officials. This new social elite gradually replaced the old aristocracy, and the recruitment of gentlemen from the south contributed to the cultural amalgamation that had already begun in the sixth century. The eighth century heralded the second important epoch in Tang history, achieved largely during the reign of Emperor Xuanzong (r. 712–56), called minghuang—the Brilliant Monarch. It is rightfully ranked as the classical period of Chinese art and literature, as it set the high standard to which later poets, painters, and sculptors aspired. By 700 CE, Chang'an (now Xi'an) was the world's largest and richest city. Merchants, clerics, and envoys from India, Persia, Syria, Korea, and Japan thronged the streets of Chang'an, the capital, and foreign tongues were a common part of daily life. • ca. 700 The Tang capital at Chang'an (now Xi'an) is the world's largest and richest city. Nearly thirty miles square, it is divided by fourteen main streets and surrounded by a wall with twelve gateways. An additional palace and a gigantic preserve are located at the back of the city. Merchants and visitors from West, South, Southeast, and East Asia arrive frequently, and Tang China functions as the epicenter of an international culture that is also reflected in the visual arts of Korea and Japan. Inventions: Porcelain WoodBlock Printing: Playing cards Paper money First book in 868