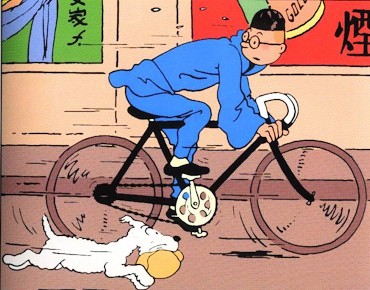 This miniature from the Ping era confirms that
the bicycle helmet goes back to ancient
Chinese dynasties.
Drawing: Georges Remi
You have reached a handcrafted and gadget-free website featuring bike tours within a vast area having Iberville as its epicenter. The site spans Montérégie, Eastern Townships, Lower Laurentians, Northwestern Vermont, Upstate New York, Magdalen Islands, and a few exotic places.
Accurate descriptions of some 100 circuits, subtours and uncountably many variants included.
As of end 2019, 10,049 photographs.
Detailed maps of all tours: pavement indications, road safety, bike paths, etc.
Detailed maps of main towns and villages.
Notice: this site is not designed with road bike addicts in mind, but aimed at touring aficionados for which the beauty of a circuit is correlated to its landscape and safety, rather than the quality of the road surface. This being written, a section of the website is limited to paved roads. It can be accessed by clicking on the black icon in the upper right corner of this page. It will not be updated.